Ice Skating Parties in Englewood New Jersey
Lace up your skates and celebrate your child's next birthday party at a local rink. Enjoy an afternoon of frozen fun by hosting an ice skating birthday. KidsParties.Party features the best rinks and arenas that host parties for children in Englewood, New Jersey. Scroll down to learn some cool facts about this sport.

4 Frozen Facts About Ice Skating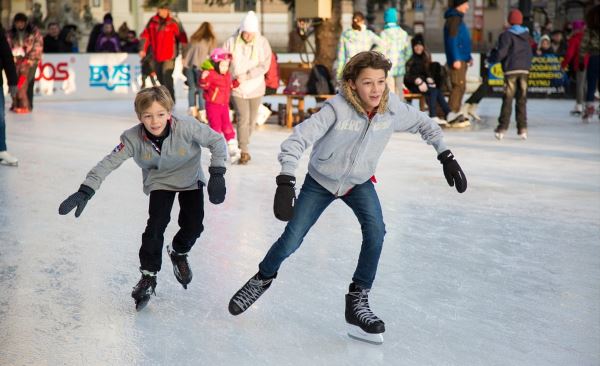 1. Ice skating has gone through quite a few iterations throughout the years. The original ice skates consisted of flattened pieces of animal bone with sharpened edges. In the 13th century, the Dutch had the idea to craft their blades out of steel.

2. Ice skating is considered a fun way to exercise, or perhaps a way to break the ice on an awkward first date, but it first began as a mode of transportation. The ancient Scandinavians needed skates for survival and for hunting trips across large expanses of ice.

3. Although figure skating and ice hockey steal the limelight, there are actually eight Olympic sports that take place on ice. There is also speed skating, skeleton, bobsled, luge, curling and short track skating.

4. Ice skating also helped diversify New York City. In the early 19th century, ice skating was a wintertime leisure activity generally reserved for the wealthy. When Central Park opened their first public skating pond in 1858, it allowed people from all social classes to partake in an afternoon of skating.

Now that you've learned some cool facts about ice skating, start planning a birthday party for your child that incorporates this frozen activity. KidsParties.Party is your number one resource to find a place where they can glide on ice in Englewood, New Jersey.

Ready for some awesome birthday ideas?

Check out our blog for a variety of birthday tips and advice! Find birthday wishes for boys, girls, and anyone else. Check out lists of worldwide birthday tradtions, and so much more.

Are you an entertainer or kid-friendly business?

We want you listed on KidsParties.Party! Get started today by registering for an account.
'Äč