Tent Rentals in Georgia
When planning an outdoor party, the first thing you need to do is make sure your guests are comfortable and protected from the elements. Tent rentals are an innovative way to designate space and create the environment you want for your event. With different shapes, styles and sizes, they can be completely customized for your space. Our listings are sure to help you find the perfect vendors in Georgia. Scroll to learn the basics of renting for outdoor events.

Tips For Setting Up a Backyard Party

Here's a nightmare scenario:

You're hosting a large outdoor party for friends and family, and everything has been going smoothly so far. Then, on the morning of the event, you discover that you overlooked one important detail - the tent rental you chose is way too small. There's no way that you'll be able to fit everyone under one, small roof.

When planning a party, take a few extra mintutes to make sure you have all of the important details planned. Here are just a few items to have planned in advance: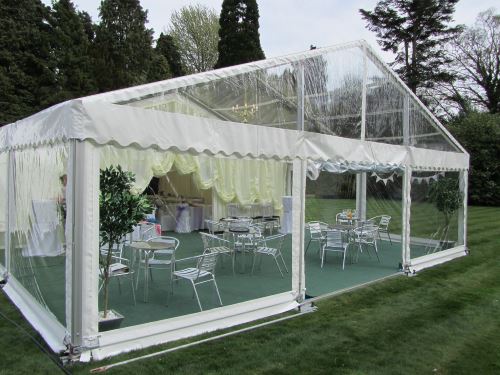 1. Size and space: This sounds like a no-brainer, but a crucial first step is to determine how much space you are working with. That way, you know the exact measurements for the tent you need.

2. Number of guests: Try to determine exactly how many people are coming by sending out RSVP invitations. for casual affairs, a guestimate can also work.

3. Type of furniture: How many tables and chairs do you need? Are they circular, square or rectangular? How will they be arranged? Creating a floor plan ahead of time will help you maximize your space.

4. Lighting, decor and extras: In addition to renting a tent or canopy, many services also offer special effects lighting, decorations and extra touches. Are you planning an event in the dead of summer? Consider renting a few oscillating fans. How about an outdoor winter event? It's possible, as long as you look into renting a few space heaters and attachable side walls.

5. Entertainment: Did you also book a DJ? They will probably be setting up their DJ booth and equipment on the fringes of the tent. If your guests are known to let their hair down, you also need to make room for a dance floor.

Luckily, you don't have to figure all of these details out on your own. Many of the vendors listed on KidsParties.Party are happy to offer consultative services to make sure your event goes off without a hitch.


Are you a tent rental service in Georgia and want to expand your reach?

Getting listed on KidsParties.Party takes less than ten minutes. Call 732-298-6015 for more information. You can also fill out this form to get listed!
Parents:
Do not worry about your next birthday party! You can find tons of advice on our blog to get you ready for the special day.

You shouldn't have to worry about money, too! To make things easier on you, we have created a software that will allow you to create and print free invitations the way you want them! They are completely customizable.
​