Cooking Parties in Georgia
Roll up your sleeves and head to the kitchen! There are so many services that offer cooking and baking parties for kids in Georgia. Interactive culinary classes are a unique way to celebrate a birthday. Children will feel just like mom and dad when they make their own meals and desserts. Scroll down to see the most popular dishes among little chefs.

Top 5 Kid-Friendly Meals

Moms and dads know that kids can be incredibly picky eaters. One of the best ways to encourage kids to try new foods is to involve them in the cooking process. When kids are actively engaged in what they are creating, they are more likely to eat it! Below, we've listed some delicious, easy kid-friendly meals that are easy for children to make.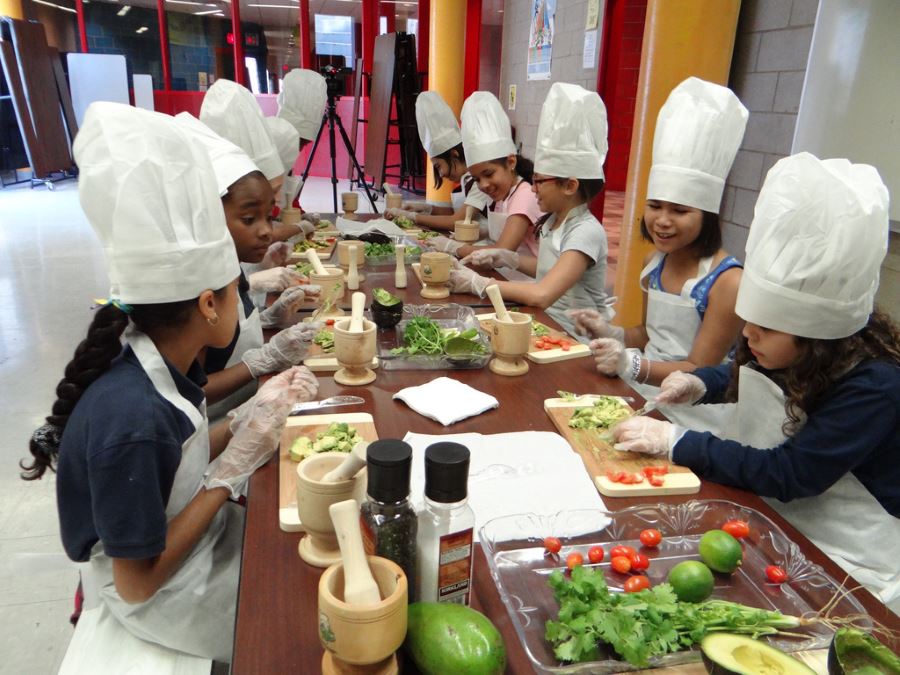 1. Pizza: A childhood favorite, pizza is an incredibly easy meal that children of all ages can cook. Make-your-own pizza allows children to get hands-on experience in the kitchen – literally! From rolling the dough to sprinkling on cheese to adding their favorite toppings, it's fair to say that pizzas are more fun to make than they are to eat.

2. Pancakes: Everybody loves breakfast for dinner. Pancakes follow a very easy recipe: simply mix the batter, pour it into the pan and flip it! Pancakes are a popular option because they can be customized. For a healthy meal, add fruits like strawberries, blueberries or bananas. Those with a sweet tooth can add chocolate chips, Nutella or whipped cream (or all three)!

3. Tex-Mex: Burritos, tacos, quesadillas and other Tex-Mex foods are spicy, flavorful and fairly easy to make. While an adult should be the one cooking the meat or sautéing the vegetables, most kids can build their own tacos, help roll their burrito or choose the ingredients for their own quesadilla.

4. Salad: Okay, we know that salad isn't as glamorous as pizza, but a bowl of garden-fresh veggies is a great way for kids to consume much-needed nutrients. Remember how we said that kids are more likely to try new foods if they have a role in meal planning? Have them pick out their favorite bright, colorful vegetables so they can learn healthy eating habits early.

5. Cupcakes: What's a party without dessert? Thanks to popular baking TV shows, cake decorating has been elevated to an art form. Allow your kids to test their decorating skills by having them choose their own frosting, sprinkles and sugary toppings for their own cupcake creations.

Cringing at the thought of a dozen kids wreaking havoc on your kitchen as your try to get them to follow a recipe?

Don't worry – KidsParties.Party has a list of cooking schools, studios and kitchens in Georgia that specialize in working with children. We also feature services that will come to you, but still take care to leave your kitchen exactly as they found it.

Book one of these services if you think your child has what it takes to be the next top chef.

Do you have your party invites?


We have the perfect invitations for you! Try our unique software to build your own custom invites. We even have pizza-night themes to get you started, or you can create your own entirely from scratch.

These invitations are completely free! Design them however you would like, then download them and print to high-quality photo paper for the best results!

Have you read our blog?

We have dedicated a lot of time to giving you all the best birthday celebration tips and information about birthday traditions around the globe. Read everything we have to offer you!

We hope these stories and articles can help you with your next birthday party!
​