Trackless Train Rentals in Georgia
When the conductor blows his whistle, you know it's time to climb aboard the party express! Miniature trackess locomotives will delight children, and even adults, at your party. Find services that offer kiddie train rentals for outdoor parties and events in Georgia on KidsParties.Party. Scroll below to learn some fascinating facts about trains.

The History of Trains

The development of the steam locomotive in the early 19th century transformed the way that people transported goods, and themselves, around the country.

The first steam-powered locomotive was invented in 1804 by British inventor Richard Trevithick. The first steam-powered commercial locomotive and railway system was created by George Stephenson about a decade later. In 1830, America's first railway system, the Baltimore and Ohio, opened to the public.

Today, trains are still one of the top forms of transportation to ship goods and people across country or to wherever they intended to go. Forty percent of the world's freight cargo is transported on trains, while long-distance rail services, such as NJ Transit and Amtrak, help transport people for both work and leisure.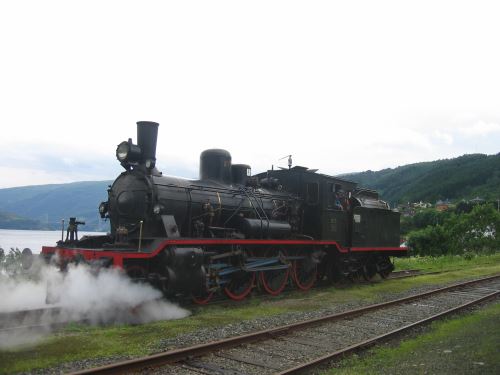 Fun Facts About Trains

1. Before steam locomotion, the earliest iterations of trains relied on ropes, horses and good ol' fashioned gravity.

2. America's first steam locomotive was so slow, it lost a race to a horse.

3. Trains helped the north win the American Civil War. Union forces utilized steam railways to transport munitions and medicine, as well as help troops escape. The Confederacy, meanwhile, relied on a less-sophisticated railway system that was inferior to the North's.

4. Thomas Cook, the world's first travel agent, popularized the use of locomotive travel for vacation and leisure.

5. Railways helped to standardize time zones across the country. As trains got more efficient and technology advanced, they were able to travel across the country in mere hours, as opposed to days. In order to coordinate travel schedules and time tables, the rail companies established a local time code for regions across the country.

6. Modern electric bullet trains can reach speeds up to 300mph.

Want a unique train themed invitation?

We have a unique software that allows you to customize any of our pre-designed templates before printing them yourself onto quality photo paper. If your child loves train, you can use this template featuring a locomotive filled with animals!

You can even start with the blank template, then add in images of your favorite train! Guests will be impressed by your one-of-a-kind invites no matter which one you choose!

Do you have a trackless train rental service?

You can get listed on KidsParties.Party today by creating an account with us.
​