Laser Tag Parties in California
Get ready to engage in electronic combat! With multi-level arenas, challenging courses, special effects, themed missions and the latest technology, laser tag continues to be a very popular option for birthday parties. KidsParties.Party features family laser tag fun centers, party places and arenas in California that will provide a thrilling experience for your guests. Want to know the best laser tag games? Scroll below to find out!

Exciting Combat-Style Laser Tag Games to Level-Up Your Party

Traditional laser tag is exciting enough, but did you know that both indoor and outdoor arenas also incorporate cool games with special rules and objectives? Check out some popular options for parties that will challenge and excite your guests:

1. Capture the flag: Though traditionally played on playgrounds and open fields, capture the flag can be incorporated into a round of laser tag. Organize your team to steal the other side's flag while guarding your own. Just add lasers.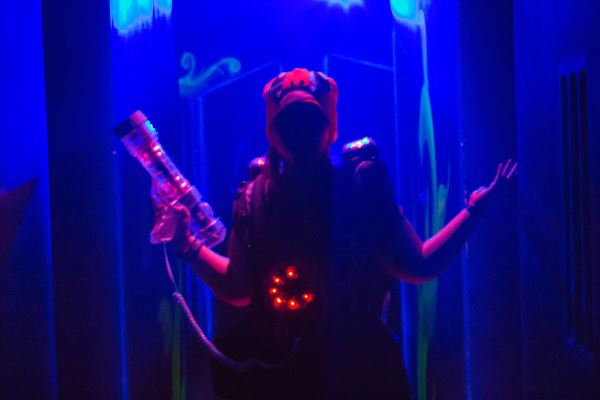 2. Protect-the-target: One player from each time is selected as a specially-designated player and must be protected at all costs. Opposing players attempt to eliminate this player during the game. Devise a strategy to protect this most valuable player.

3. Elimination matches: If a player is tagged a certain number of times, they're out. Don't be tempted to hide behind barriers and stay out of the line of fire – you need to score your own points if you want to make it onto the leaderboard.

4. Defend the base: In this style of combat, each player is responsible for protecting their own turf while attacking the enemy. This type of match calls for both strategic offense and defense.

Incorporating these types of combat games will take your party to the next level. This is especially excting for tweens and teens who are advanced enough to play challenging games.

Before you book your next birthday party, see if any of these arenas offer special games and matches.
Get your Laser Tag Party Place Featured on KidsParties.Party


If you are a laser park or venue located in California that offers heart-pounding, cutting-edge experiences for kids and teens and you would like to list your party packages, we want to promote you right away! You can be featured on KidsParties.Party by registering for an account or calling us at 732-298-6015.
​