Art Studio Parties in Arizona
Vibrant paints, fresh canvases and bristly paint brushes. If your child is creative, they probably can't wait to get their hands on these items. Let your birthday child and their guests create their own works of art during a creative and hands-on brithday party. KidsParties.Party features kid-friendly studio spaces that offer parties for all ages and skill levels in Arizona. Create a beautiful masterpiece to take home after the party. Interested in doing art projects at home? Scroll below to find out how to get started.

Environmentally-Friendly Art Supplies

Attending class or camp at an art studio is a great way for children to experience hands-on enrichment, but the truth is, families can do their own arts and crafts projects together at home. Best of all, there are many ways that families can do eco-friendly arts and crafts projects using supplies from around the house.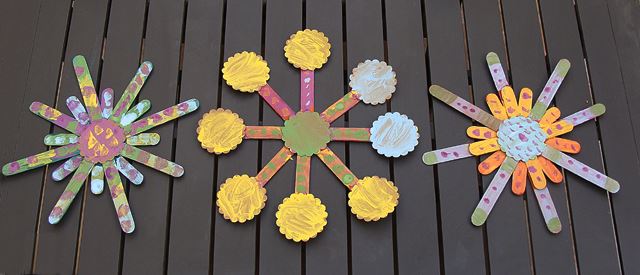 1. Upcycled materials: Your kitchen alone is a treasure trove of art supplies. Recycle plastic food containers, cardboard boxes, popsicle sticks and egg cartons are just a few items that you can repurpose and turn into art. Using untraditional materials will encourage your children to stretch their imaginations.

2. Environmentally-friendly supplies: Invest in all-natural art supplies, such as paints, crayons and clay. They are generally made from soy, wax or other non-toxic substances, which is reassuring for parents of younger children who can't resist tasting everything!

3. Incorporating nature: Head outside and use items from nature to make a beautiful project. Gather fallen leaves to make a fall collage, or paint artistic designs on smooth stones from the garden.

Eco-minded families can be happy knowing that they are combining their love of nature with their love of art. Many studios in Arizona are also committed to the environment, and take care to use recycled materials and produce as little waste as possible. Browse through our listings to find one in your area.

Want to get more creative this year?

You can design your own birthday card this year! Invitations, too! Use our new and completely free tool to customize your favorite template. You can even use a blank template to design completely by yourself.

If you need birthday messages for your card, you can find them here. We also have tailor-made wishes written just for your son or daughter!

Are you an entertainer or kid friendly business?

Get listed today! Start by registering. It will only take a few minutes.
​