Inflatable Rentals in Pennsylvania
Turn your backyard into an amusement park with bounce houses, slides and obstacle courses. Inflatable rentals are designed for kids, yet parents and adults will be tempted to join in on the fun, too. Find a reputable service in your area of Pennsylvania listed here. Visit the bottom of the page to learn about some unique inflatables that you might not have heard about.

Inflatables You've Never Heard Of

When thinking of inflatables, bounce houses are usually the first thing that comes to mind. Howver, there so many unique types of inflatables available for parties. Check out some of our favorites:

1. Mechanical Bulls:Test you skills and see how long you can stay on the mechanical bull. Don't worry - if you fall off, the ring around the bull will cushion your fall.

2. Jousting Rings: Compete against your friends for bragging rights by competing in a jousting match. Knock them off their pedestal with a giant foam baton and declare yourself the winner.

3. Waterslide: Beat the heat by renting a giant waterslide. Perfect for outdoor summertime events, a waterslide is an unexpected addition to a pool party.

4. Lifesize Games: Board games are cool, but playing them on a giant blow-up mat is even cooler! Twister is a popular game that can be converted into a lifesize inflatable, making it that much more challenging to keep your balance.

5. Blow-Up Movie Screens: Kids today may be too young to remember drive-in movie theaters, but that doesn't mean you can't recreate that magic on your own. Many services offer giant, blow-up movie screen projectors for rent. Turn your backyard into an outdoor theater. All you need is your favorite flick and a bucket of popcorn.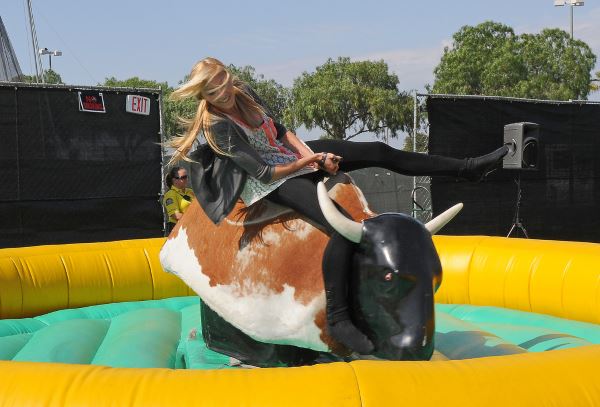 Not sure which inflatable to have at your party? Call Kids.Parties.Party at 732-298-6015. We'd be happy to make recommendations for inflatable rental companies that will serve your area of Pennsylvania.
Make your party even better!
Create birthday cards and invitations that are 100% unique to your event. Customize any of our templates your own way; we have tons of themes to choose from.
Is your inflatable rental for a pool party? Check out the pool party invite template here!
Are you looking to get listed?
We have space available for new entertainers and businesses. Click here to begin registration. It will only take two minutes.
​