Hawaiian Luau in Pennsylvania
Tropical island breezes, swaying palm trees and sandy beaches. Escape to the islands by hosting an authentic Hawaiian luau at your home or venue. Find hula dancers, fire breathers, musicians, caterers and other entertainment services that specialize in creating authentic Polynesian-inspired parties and events in Pennsylvania. Scroll below to learn some fascinating facts about traditional luau feasts.

Read This if You've Never Been to a Luau

Hawaiian luaus are more than just tropical-themed celebrations. Originating from Polynesian nations such as Hawaii, Tahiti, Samoa and the various islands of the South Pacific, these parties have rich historical and cultural significance. Before you attend your first luau whether it's in Hawaii or Pennsylvania, here are a few things you should know: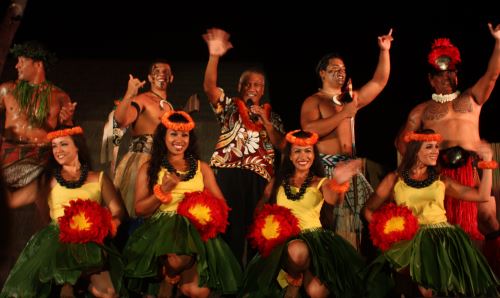 1. Many families host luaus to celebrate their child's first birthday. Seen as a way to give thanks for their child's first year of life, the first-birthday luau has the potential to be the biggest party of the child's life – all before they are old enough to remember it!

2. The word luau doesn't actually mean "party." Luau is a traditional Kauai dish made with taro leaves and chicken prepared with coconut milk. Over time, the term took on its popular connotation.

3. Many male dancers and fire eaters may have tattoos on their face, but not just for decoration. The tattoos symbolize their genealogy and personal identity.

4. The first luau feast was hosted by King Kamehameha II in 1819. Historically, customs forbid genders and social classes from mixing at luau ceremonies. Kamehameha II established the tradition of the modern luau, which allowed guests to interact freely.

5. Taro root is more than just a tuberous vegetable. It is also an integral part of the Hawaiian culture's spiritual belief system. Taro, or Haloa is believed to be the spiritual older brother of humanity. Respect for the taro root is a common thread that runs throughout their culture, which is why it is the centerpiece of luau ceremonies.

6. The imu is a traditional pit oven used to steam meats, fruits and vegetables.

7. Hula dancing is more than swaying your arms and donning a grass skirt. Hula dancers spend years perfecting their craft. Each movement has significance, and each performance tells a story that evokes the nature, mythology and history of the Islands.
Do you need luau birthday invitations?


We have created an interactive software that will help you design the perfect birthday invite for your big event! We even have a template designed to feature pictures of the birthday child; snap a picture of your little one in her luau best to send out on the invitation. Print these completely free invites to use as you would like.

Do you know how the rest of the world celebrates birthdays?
We did research and found some of the coolest birthday traditions around. While luaus and big parties are common in the United States, you should see what other unique traditions are going on around the world.

Do you have a luau business?

Get listed on KidsParties.party. Start by filling out this quick form on our site.
​