Balloon Twisters in Pennsylvania
Learning how to create balloon animals takes hours and hours of practice. Do you really want to spend the day of your child's party struggling to make an inflatable sword? Leave it to the professionals. KidsParties.Party lists talented balloon twisters who can create animals, shapes and other forms of balloon art. We've also found inflatable artists in Pennsylvania who can produce balloon décor, such as columns, arches and centerpieces. Want to be blown away by some balloon animal facts? Scroll to the bottom of the page.

These Facts About Balloon Animals Will Blow Your Mind!

We promise we're not inflating our facts. You'll be blown away when you read some of the fun information we've found about balloon twisting.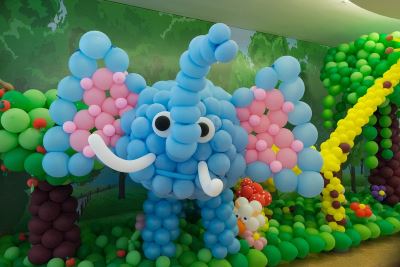 1. Balloon artistry was believed to be invented in the late 1930s by a man named Herman Bonnert from Pennsylvania. He would often attend magic conventions and delight the crowds by twisting balloons into animal shapes.

2. The biggest balloon arch was created in Minnesota using 1,434 balloons. The finished product measured in at 600 feet wide by 340 feet tall.

3. Dogs are some of the most-requested balloon animals. The biggest balloon dog measured in at 65 feet long by 32 feet high.

4. Nearly one billion balloons are blown up and used annually.

5. The first balloons were created from animal bladders and intestines. Balloons as we know them today were invented in 1824. Modern balloons are made from rubber, latex or Mylar.

6. Did you know that popping balloons creates a small sonic boom? It's true! The speed of a rupturing balloon is faster than the sound of it popping, which is enough to break the sound barrier. This creates the distinct sound of a balloon popping. No wonder it's so startling!
Are you a balloon twister?


Click here to fill out our entertainer form. You can be listed on KidsParties.party!

Are you worried about your birthday party?

Check out our handy blog for extra tips for your child's birthday. There may be ways for you to make his or her day more special with very little effort. Sometime you can do it all for free!
​