Pottery Studio Parties in Pennsylvania
Pottery, whether through hand-molding clay or painting elaborate designs on bisque pieces, is a skill that takes time to learn. The result is beautiful yet utilitarian works of art. Children can express themselves by painting their own ceramics or learning to mold clay using a spinner's wheel. You can use KidsParties.Pary to find studios that offer parties, classes and workshops specifically for children in Pennsylvania. How did pottery originate? Scroll below to find out.

The History of Pottery:

The American Ceramic Society is an organization that aims to advance the academic study and practical use of ceramic and pottery. They've created a detailed timeline of the history of ceramics and pottery. Here are some of the notable points: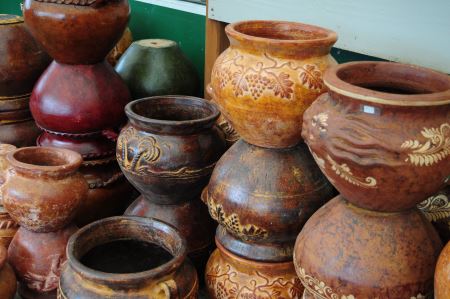 1. Humans first discovered that clay could be used to make pottery in 24000 BC. They created the first kilns by partially digging out fire pits in the ground. The first clay creations were ceremonial figures used for spiritual purposes.

2. Pottery was first created in 9000 BC. People started turning lumps of clay into vases, bowls and cups.

3. The ancient Egyptians first discovered how to make glaze in 5000 BC.

4. In 700 AD, the Chinese created porcelain. Five hundred years later, they developed colored glazes.

5. Cultures throughout the world started developing various methods of pottery, such as stoneware, earthenware and porcelain.

6. The industrial age brought on the use of the modern kiln, which utilizes gas, wood or electricity to fire the pieces.

Inspired to create your own pottery? KidsParties.Party features local studios that offer birthday parties in Pennsylvania. Simply choose your state, find a place and book your party!

If your child loves being creative, they will love to see you enjoy their passion too; create your own birthday card for them this year with our innovative tool. You can use any template to create a completely customized birthday card for them.


You can even find the perfect birthday message right here at KidsParties.Party. We have handwritten hundreds of wishes for your daughter, your son, and anyone else. Pick your favorite!

Are you an entertainer or kids party business?

We want you listed! Click here to register and get started today!
​