Inflatable Movie Screens in Pennsylvania
Lights, camera, action! Host the ultimate party at your place by turning your backyard into a theater. Rent a multi-foot inflatable projector system for the ultimate movie night at your house. KidsParties.Party features services than can provide screen rentals for film screenings, video game tournaments and other events in Pennsylvania. Planning a movie night? Scroll below for some helpful tips.

Tips for a Successful Movie Night

Theaters can be crowded, noisy and expensive, not to mention that you are limited to the films that the theater is currently showing.

Wouldn't it be great to watch your favorite flick in the comfort of your own home, while still enjoying the big screen experience?

When you rent an inflatable movie screen, you will turn your backyard into a veritable theater. Interested in hosting an epic movie night at your place? Check out our helpful tips below: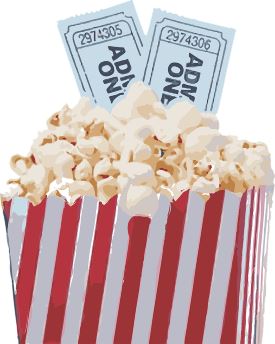 1. Make it a themed night: If your child is obsessed with superheroes or can't get enough of Harry Potter, consider having a themed movie night, complete with decorations, desserts and more. Franchises with multiple films in the series are perfect for movie marathons.

2. Pass the popcorn: What's a movie party without snacks? Everyone knows the best part of going to the movies is loading up on popcorn, candy and other treats. When you host a party at your home, you can also enjoy foods that aren't typically served at theaters, such as pizza, sandwiches and even ice cream. Best of all, you won't have to sneak anything in under your jacket.

3. Get comfortable: When you visit a regular theater, you're confined to a small seat. Even newer theaters that offer luxury lounge chairs still don't have the feel of being cozy at your own home. Set up folding chairs or outdoor furniture for your guests if you are hosting the event in your backyard. If your movie night is also a sleepover, why not pitch a tent and break out the blankets, pillows and sleeping bags?

4. Hit the lights: For best viewing, wait until nightfall to show your film. Just like in a regular theater, movies are easier to see (and much more exciting) in the dark.

5. Make the most of your rental: If you are renting your screen for several hours or the rental service isn't coming to pick it up until the next morning, you can use your blow-up screen for more than just watching films. Set up your gaming console and have an epic video game tournament or connect your mp3 player to the speakers for a dance party.

After reading these party planning tips, you're probably already popping the popcorn and choosing your favorite films. When you're ready to rent your blow-up projector, find quality and trusted rental services in Pennsylvania that will turn your backyard into the ultimate theater.

Design a Movie Night Invitation or Card!

We have movie night templates available on our free card builder! You can invite guests, or add in your favorite of our birthday wishes for your son or daughter's birthday card!

Do you have an inflatable movie screen rental or service?

You can get listed! Join right now with this simple form to get started.
​