Clowns in Florida
Bring the giggles to your child's next birthday party and hire a happy clown entertainer that can juggle their way into your child's heart. Clowns offer uplifting laugher and unique talents that will have your guests smiling and laughing. KidsParties.Party features the most extensive list of red-nosed, big-shoed entertainers that specialize in children's parties in Florida. Scroll down and find cute jokes to bring laugher to your child.

5 Kid-Friendly Jokes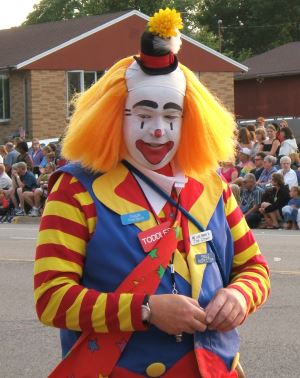 Clowns aren't the only ones who can bring laughter and smiles to children. Want to add to your list of silly and corny jokes? See some of our favorites below. The answers are on a different page, so no peeking until you've guessed them all!

1. What is a tree's favorite drink?

2. What did Delaware?

3. Why didn't the biscuit go to the party?

4. Why are babies good at basketball?

5. Why was 6 afraid of 7?

Have you figured any of these out yet? Click here to see the answers.

Want to leave the joke-telling to the professionals? KidsParties.Party features humorous kid-friendly party entertainers in Florida. Simply browse through the listings to find one that serves your area.
Are you an entertainer?
Click here to register as an entertainer. It will only take you a quick moment to sign up.
Are you a parent?
Find tons of fun tips and advice for your child's next birthday party here. You will not be disappointed by our extensive list of birthday messages or our list of ways to make your child happy on their birthday.
​